Import IncrediMail to Apple Mail
I am using Mac Apple Mail but I had handled IncrediMail in my past. So I have various IMM files and I would like to Import IncrediMail emails to Apple Mail Mac. I searched such tool which could provide me for the conversion from IncrediMail 2 Apple Mail, because without one I am helpless. Is there any tool, which could support me to Import IncrediMail to Mac Mail?
Yes! IncrediMail to Apple Mail Converter is a precise solution for you to come out from the trouble of IncrediMail to Apple Mail Conversion. The Software would export IncrediMail 2 Apple Mail without losing any details. You can attain immediate conversion processing with its bulk approach. The Group Mode would import unlimited IMM files to Apple Mail in one round. For using batch mode, keep entire IMM files in a folder for the conversion and then select the folder with the Tool.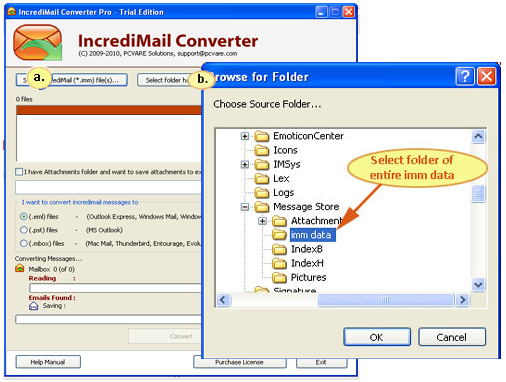 The IncrediMail Conversion program can import IncrediMail to Apple Mail with previous folder location – inbox.imm, deleted items.imm, outbox.imm, etc. This software is the only solution to import emails from IncrediMail 2 to Apple Mac Mail and it is only workable on Windows Machine, so users can import IncrediMail 2 emails into MBOX in Windows Machine and then keep entire converted mbox files in Mac OS (by external help – pen drive, CD). After that, one can easily import converted mbox files into Apple Mail.
The IncrediMail 2 Conversion Program will provide complete output with safe and ensured process. This program would simply import IncrediMail 2 to Mac Apple Mail with complete header and formatting details.
Try the IncrediMail 2 Apple Mail Tool & then Purchase –
The software supports free demo facility for those who prefer trial to check out the software. With this feature, users can import 10 IncrediMail files to Apple Mail without payment.
Start Downloading Demo Version
Advantages to Import IncrediMail to Apple Mail
The Batch Approach imports entire IMM IncrediMail files to Apple Mail in a round.
The Tool supports entire Windows Application – Win 8, Win Vista, Win 7, Win XP, etc.
Import IncrediMail IMM to Apple Mail with entire attachment data.
The Program is advance and graceful process that is also very simple for handling.
Save IncrediMail to Mac Apple Mail with metadata and formatting.